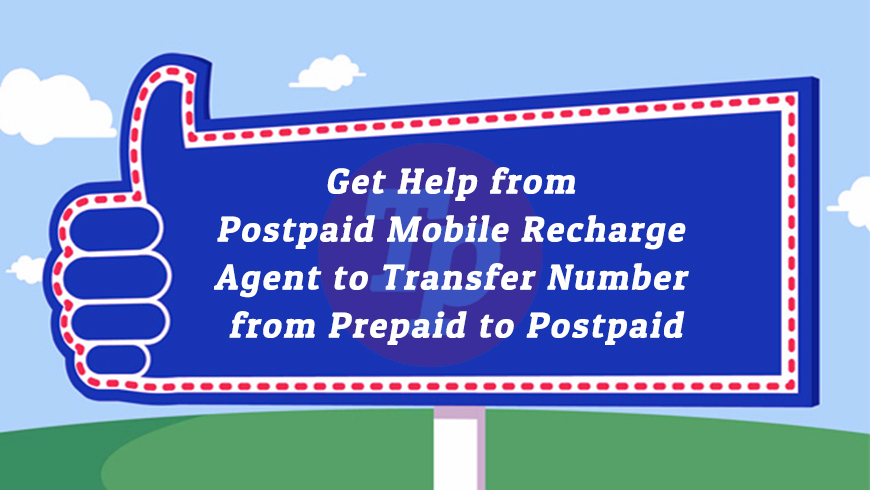 Sep 21, 2019
Get Help from Postpaid Mobile Recharge Agent to Transfer Number from Prepaid to Postpaid
This is a simple guide which would provide you the way to switch your number from a prepaid one to postpaid with the help of postpaid mobile recharge agent.
Step 1: Approach Customer Care Center
You could approach the customer center of your mobile service provider or you could even approach your postpaid mobile recharge agency. There are also options available for online complaint about the switching of your number after which the customer care of your service provider would approach you for providing you with a solution for a mobile number transfer.
Step 2: The Documents you are Needed to Provide at Postpaid Mobile Recharge Agency
You need to take along with you your address proof and photo at the center of your postpaid or prepaid mobile recharge agency. Customer care would provide you with the migration form to fill and you will then need to choose and specify the postpaid plan of your choice. According to the basis of your postpaid plan, you will need to pay the security deposits. Moreover, there is also no need to go to the customer care office for documents verification as it can be collected at the comfort of your home. The customer care executive will approach you at your home and collect the required documents and get the form filled up.
Tele companies are making these efforts for lowering the costs of smartphones and featurephones especially for the start level phones so that people deal in using more and more amounts of data. However, no one claimed how much or how far there would be drop in the prices of smartphones and featurephones in the coming days.
Step 3: Verification of your documents
The sim service provider will then have to verify whether your documents are the same as that which you used for acquiring your previous SIM card. After the completion of the verification process, a new SIM will be handed to you for your usage. Those who apply for Postpaid Mobile recharge agency registration are also aware of the full process which would be carried out for the verification of your documents. And after the verification process either you will have to collect the new SIM from the customer care center or it would be delivered directly to your place.
The competitions between the different mobile service provider companies are changing the dynamics of the mobile prepaid and postpaid recharges rapidly and there are more data and free calls offerings made by the mobile phone companies.
Step 4: Activation Process of New SIM
The time taken for the completion of the process of SIM activation is up to 48 hours and after this, the migration process of yours will be completed. Now you could easily switch from any prepaid connection to a postpaid connection with the help of postpaid mobile recharge agent.
And if you want to complete your Postpaid Mobile recharge agency registration you need to follow these following steps and complete the process:
First of all, you will need to apply online for postpaid mobile recharge agent registration through some similar website like Treatpay. And then you will have to complete the documentation and another required process to do with formalities.
TreatPay is one of the best websites to become prepaid or postpaid recharge merchants as there are currently more than thousands satisfied recharge agents connected with TreatPay website.
We hope that this article has made clear of how to change your prepaid number to a postpaid one.